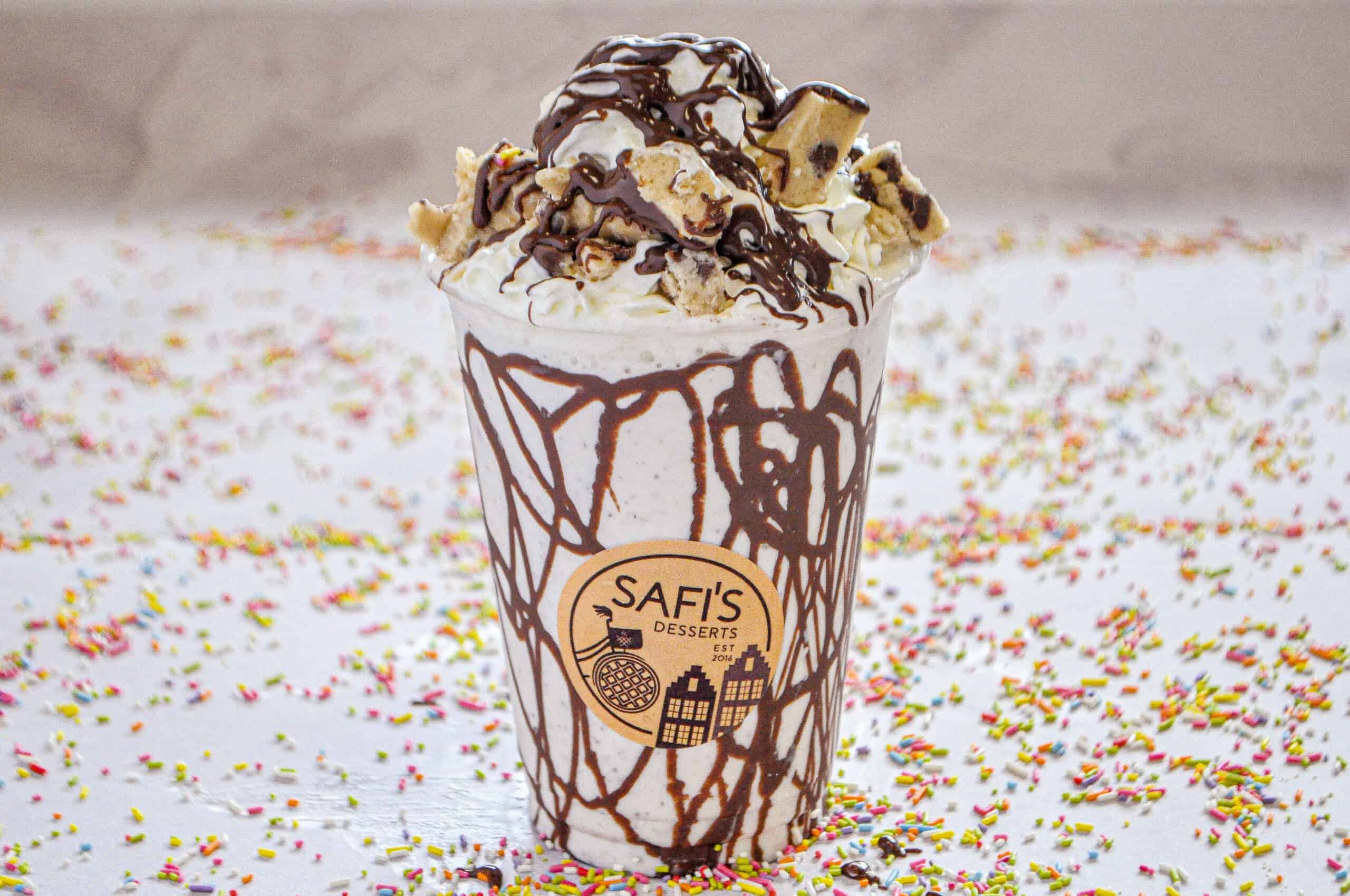 Best Milkshakes in Liverpool
If you're a dessert lover in Liverpool, you've undoubtedly heard of Safi's Desserts, unless you've been living under a rock.
Since opening our first store way back in 2016, Safi's Desserts has become a huge hit across the Liverpool dessert scene. We strive to bring a unique and exciting twist to traditional desserts, using only the highest quality ingredients in every treat we serve.
And let's be real, who doesn't love indulging in some seriously delicious desserts every now and then?
As one of the city's most popular dessert spots, we're known for our delicious and tantalising signature milkshakes that are sure to hit the spot every time. Let us take a closer look at each of these shakes and see for yourself why Safi's Desserts is a must-visit spot for any dessert lover.
First, we have the Classic Nutella milkshake, a heavenly treat made with layers of creamy vanilla ice cream and topped with Nutella, Nutella, and more Nutella. It's a milkshake lover's dream come true and is sure to satisfy any craving.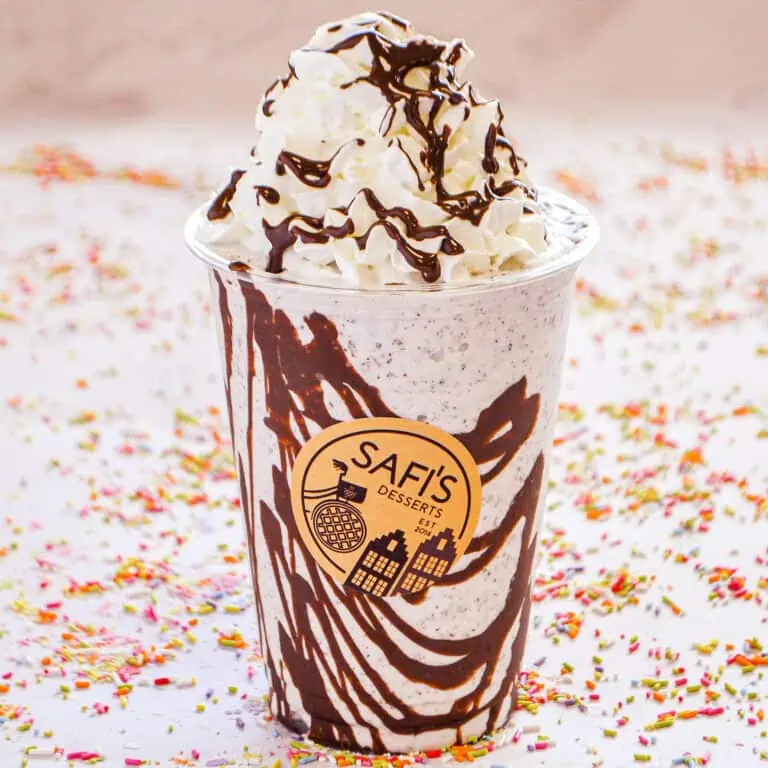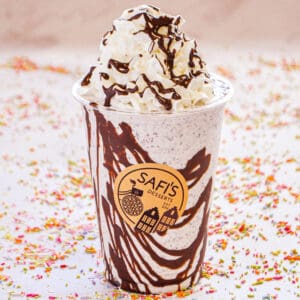 Next up is the Oreo Land milkshake, our playful twist on the classic Oreo cookie. This shake is made with a generous helping of crunchy, chocolatey Oreos and is finished with a drizzle of velvety Hershey's chocolate sauce. It's a sweet and satisfying treat that your taste buds won't stop thanking you for.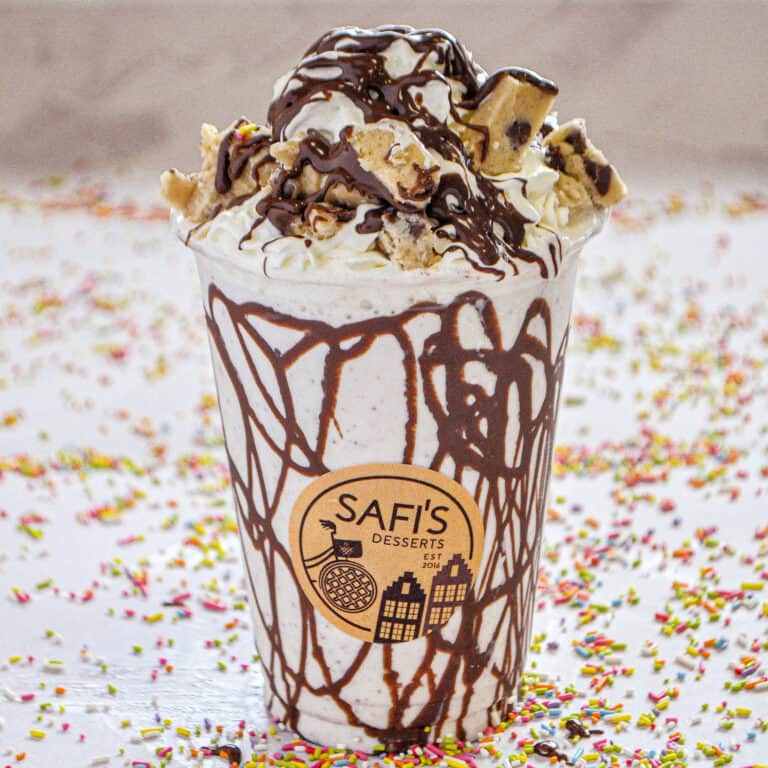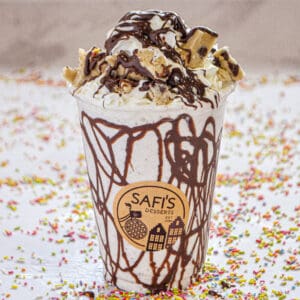 For those who like to mix it up, the Amsterdam milkshake is absolutely the way to go. Made with a combination of crunchy Maltesers, creamy Ferrero Rocher, crisp Cadbury Flake, and crunchy Oreo, this shake is finished with a generous drizzle of smooth Nutella. A veritable crowd favourite, it's a chocolate lover's paradise and is perfect for a celebration.
If you're in the mood for something a little more indulgent, the Bueno Love milkshake is the perfect one for you. This shake is made with creamy milk and white Kinder Bueno and is finished with a drizzle of rich and delicious Kinder sauce. It's a creamy and indulgent treat that's sure to delight on any occasion.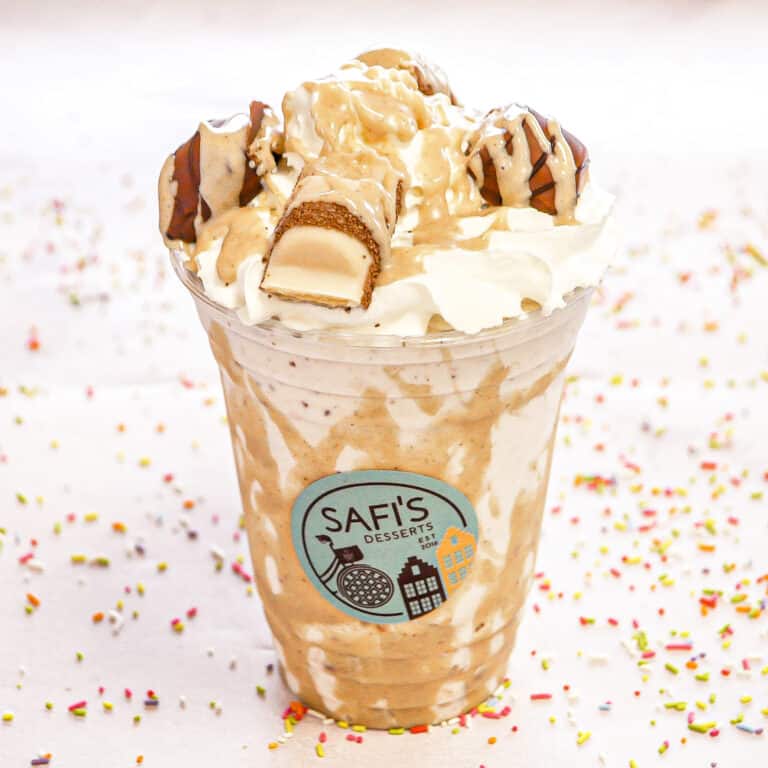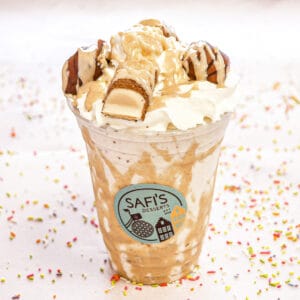 For those with a sweet tooth, the Brownie Marley milkshake is a must-try. This shake is made with rich, fudgy chocolate brownie pieces and is finished with a generous drizzle of warm and gooey Nutella. It's an indulgent and heavenly treat that's sure to satisfy any sweet craving.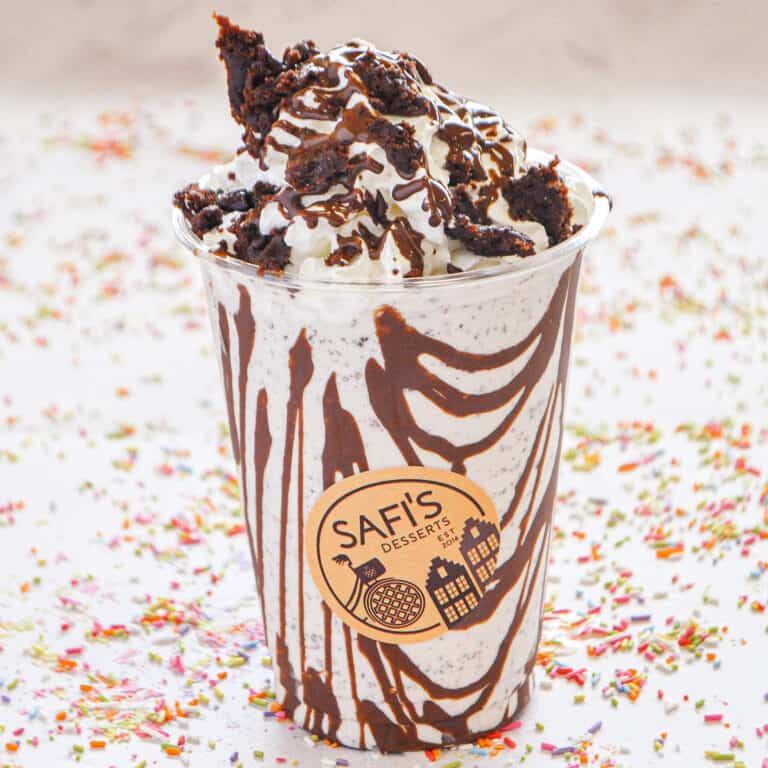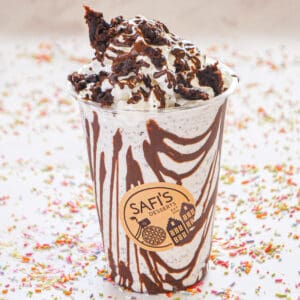 Last but not least, we have the Dam Coffee Shake. This shake is made with a bold and aromatic single espresso and crunchy Lotus Biscoff crumbs and is finished with a generous drizzle of smooth and creamy Lotus Biscoff sauce. It's a coffee lover's dream come true and is sure to give you the pick-me-up and energy boost that you need.
If none of the above catch your fancy, we challenge you to do better. That's right, here at Safi's Desserts, we also give you the choice to customise your milkshake according to your needs, you special snowflake.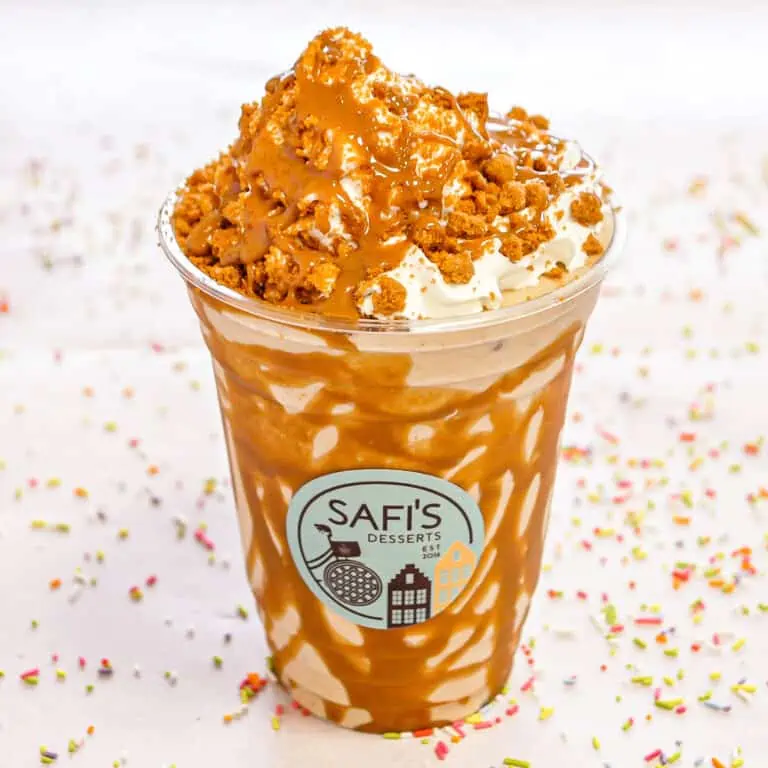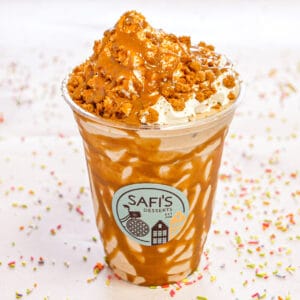 Choose from any one of the following toppings – Cadbury Flake, Lotus Biscoff, Maltesers, Milk Kinder Bueno, White Kinder Bueno, Chocolate, Bubblegum Millions, Oreo, Strawberry and Banana – to go along with our soft vanilla ice cream, for only £5 for a regular shake and £5.50 for a large shake. Feel free to add on any chocolate bar for just £0.80 and any sauce for just £0.50. Who knows, you may accidentally stumble upon greatness and we end up naming a new milkshake combination after you?
All of our signature milkshakes come in large sizes and are made with our signature soft vanilla ice cream, and at only £5.95 they are an absolute steal. And for a limited time, we're offering a buy one get one free promotion only on UberEats, so you can indulge in two of these irresistible shakes for the price of one, from the comfort of your home. Be sure not to miss out on this amazing deal (come on, it's practically daylight robbery) and reward yourself with a sweet treat today!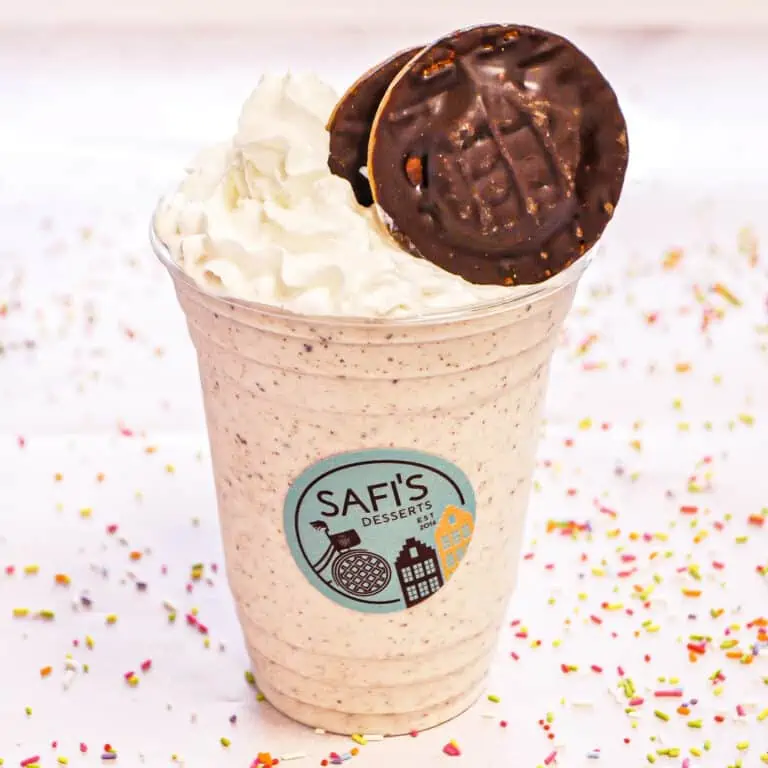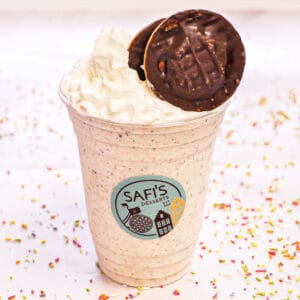 Don't just take it from us, here are what some of your fellow Scousers have to say:
"I took my family to Safi's Desserts over the weekend and we all agreed that the milkshakes were incredible. The Oreo Land milkshake was such a hit with the kids and I had the Amsterdam milkshake which was so unique and tasty. I'm definitely going back to try all the other flavours on the menu some time soon." Jake D.
"I stopped by Safi's Desserts on a whim one day and I'm so glad that I did. The Brownie Marley milkshake was so good and just out of this world. I can't wait to go back and maybe if I'm feeling adventurous I'll try customising my own milkshake this time." Sarah N.
"I've heard many of my friends talking about how good the milkshakes at Safi's Desserts are and I simply had to try it out for myself. I had the Classic Nutella milkshake and it did not disappoint. Hands down, it was the best milkshake I've ever had. I don't know how else to describe it, other than that the combination of the vanilla ice cream and rich Nutella was pure heaven in a cup! I'm now a bona fide believer!" Mo S.